How to Plan Your Eurotrip
When it comes to traveling, my heart is always drawn back to my favorite continent: Europe. In the past 5 years, I've visited three times, and so I'd like to think I know a thing or two about getting started with planning a Eurotrip; but even so I still find myself getting overwhelmed by it all. I know a lot of you have had dreams and plans of visiting Europe one day but have no idea where to start, and so I decided to create a guide with all the basics to help kickstart your planning.
A quick warning: even this post might be a bit overwhelming, which is why I'm trying to stick to the most basics of planning a Eurotrip. This blog post will give you a general idea of how the planning goes. It's overwhelming. There's tons of info to consider. But if you want it bad enough, you'll make it work. So grab a cup of coffee or tea, your travel planning notebook, a good pen and start taking down notes as you go through this post. :-)
Before anything else I want to emphasize the importance of utilizing Google. I abuse Google so much that I've used it for everything and anything under the sun, and yes life advice included sometimes. For planning a Eurotrip, I found that Google made it all a hundred times more convenient, especially for specific inquiries I have regarding my traveling, questions such as: "What is the best way to travel from Bern to Jungfraujoch?" or "How to get from Cochem to Burg Eltz?" -- these two questions are examples of what I search when I have no idea how to get to certain locations I want to visit, especially hard to reach places like Burg Eltz. (You can read our Burg Eltz visit here or watch the vlog version -- we walked through a forest and everything!)
Whenever I plan for my Eurotrip, I focus on 3 main questions: Where, When and How.
Knowing your "WHERE" is the most important part when beginning your Eurotrip planning process. When you know what you want, you narrow down your choices to specific places making it easier to start doing your research. To figure out where you want to go, some questions you can answer is:
1. Which country interests you the most?
2. Do you prefer the quiet countryside or the bustling city?
3. Do you like history/art/architecture?
4. Or do you prefer gastronomic adventures?
5. Do you enjoy outdoor activities like camping or hiking?
Once you've answered one or all of these questions, you'll get a general idea of what your Eurotrip will be like. Here's an example of how I would answer the questions above:
1. France, UK, Germany (now I know I will focus my Eurotrip in these 3 countries)
2. Both countryside and bustling city (now I know to include countryside places I can visit from the city)
3. Yes to history/art/architecture (now I know I must include historical places, check out the old towns and visit museums)
4. I'm not very particular with food (now I know I won't have to research on restaurants to eat at and will be fine eating anywhere)
5. I'm not a big fan of camping or hiking but will be willing to do it if I really want to visit a place (now I know I can include a day trip somewhere nice even if might be harder to get to)
Whenever I have people asking me where they should go in Europe, I always meet them with the question, "That depends, what are you into?" because while Europe seems like it's a continent that basically offers you the same vibe and culture -- it's so much more than that. Each country truly has its own beauty, and I can't give you suggestions based on my own personal interests no matter how much you trust my taste. This is your travel experience, so do your research and see what excites you, that tickles your fancy, that you know won't be a waste because it's something you truly wanted to experience. I've made the mistake of following other people's advice/interests instead of doing my own research about a place and being met with disappointment. So yes, ask around for suggestions but always do your research anyway. Just because a place is highly recommended by the majority, doesn't mean you'll have the same experience. If it just doesn't interest you the slightest bit, don't be afraid to skip it.
Knowing your "WHEN" plays a huge role in your travel experience. Generally speaking, when it comes to Europe, you've got four seasons to choose from and they differ vastly in weather, tourist crowds and even the costs. I've experienced Europe 3 seasons out of 4, all except Spring. Here's a breakdown of what travel might be like per season:
Spring (March to May)
- Warmer days as the winter air starts to dissipate
- The trees and flowers start to bloom again
- Sunnier days
- Shoulder season (means it's not peak season for tourists but crowds start to get bigger because the weather is much more ideal to travel than winter)
 
Summer (June to mid-September)
- Warm enough for one layer of clothing
- Longer days to tour, sun sets around 8-9PM
- Tourist season means tons of crowds, families on vacation because kids are on summer break
- Accommodations tend to be more expensive due to high demand
- More events and festivals to attend
Fall (mid-September to mid-December)
- My favorite season due to browning/orangey trees and beautiful golden light
- Shoulder season, less tourists
- Cold enough to wear 2-3 layers of clothing but not winter wear
- Prices generally go back to cheaper rates at hotels/hostels/airbnb
- Shorter days, generally sun sets around 5PM but the closer you get to December, sun sets around 4PM
 
Winter (Mid-December to February)
- Colder climate, maybe some snow (you might not like it if you're coming from a tropical country and not used to winter weather)
- Lots and lots of layers, which means bigger luggage to bring around
- Cheaper accommodations
- Shorter, and lots of rainy days
Now that you know when you'll be heading to Europe, you can plan your trip accordingly from where you want to go and what you want to see and even get a general idea of how much things will cost. Now we'll move on to the next step of the process, which is where the nitty gritty research begins... It'll be stressful, but fun.
The "HOW" of your planning will have everything to do with getting there, where you'll be staying and how much your budget will be for your trip. With a lot of patience, google searching and common sense, you'll have an outline of your Eurotrip plan in no time.
Transportation
Getting to Europe will be the biggest expense for your trip, especially if you're coming from somewhere far away like the Philippines where I'm from and most of my blog readers live. The further you are, the more expensive it gets. Thanks to services like Skyscanner, it's easier to weed out the cheapest flights, and if you're flexible, you can book the cheapest flight any time of the year and just go! Apps like Skyscanner also allow you to create an alert so you're notified when the cheapest days to book show up.
The best way to get around Europe is:
Flights
Trains
Buses
Car rentals
Ride sharing services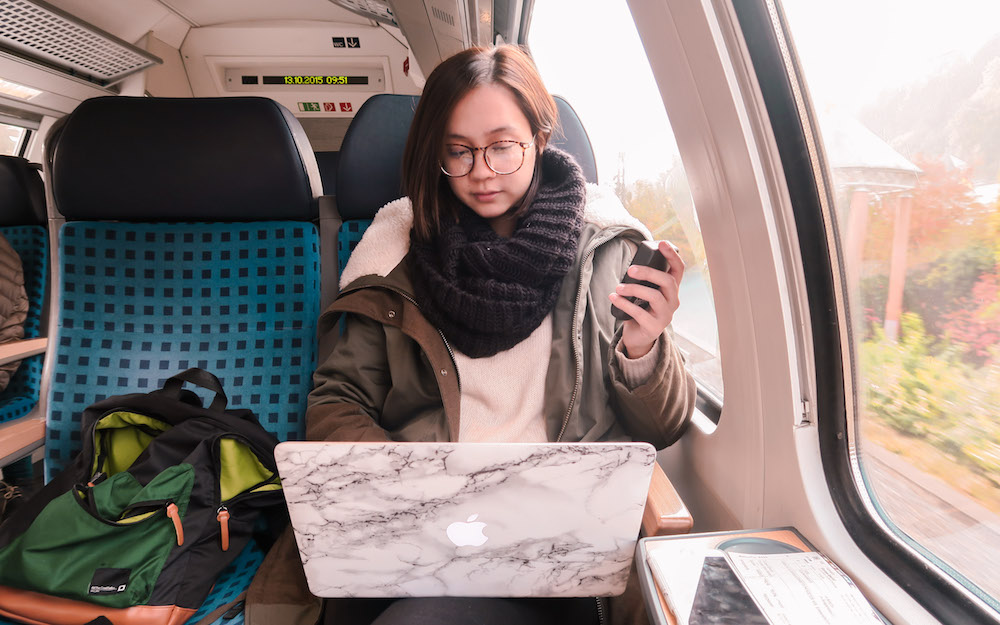 it's my quick break in between traveling, to just sit and admire the beauty, do some work or read a book.
My favorite website to use when looking for the best way to get from city to city is definitely Rome2Rio. I highly recommend it and use it the most when planning my trips. You can even book your transport from there.

1. TRAINS - Definitely my favorite mode of traveling around Europe. I find that they're the cheapest and most convenient way to travel especially when going from one major city to another, especially if they're near each other. There are many highspeed trains available to choose from depending on the cities/countries you'll be visiting. My favorite part about traveling by train is definitely getting beautiful views of the countryside!
2. FLIGHTS - Flights great and can be cheap too (you've got Ryanair and EasyJet as budget airlines), but I tend to reserve flights for when the locations are too from each other to reach by train (if a train ride will take me 5-6 hours to reach my destination, sometimes I wouldn't mind taking the plane if it means I save up on time). You also have to consider that airports are on the outer parts of cities, so you'll end up paying to travel into the city center as well.
3. BUS - I've never had personal experiences traveling by bus, but it's one of the cheapest ways to travel if you don't mind long hours and sometimes, or oftentimes, sleeping in them too.
4. CAR RENTALS - they're great for those who really love to take their time seeing a country and would be perfect for cross-country roadtrips. Someday I wish to experience this, but for now I can refer you to my fellow travel blogger Aileen Adalid who wrote about her first road trip around Europe, and my vlogger friend Inky who traveled around Iceland in a camper van with her husband Jon!
5. RIDESHARING SERVICES - Last but not the least, you've got ride sharing services like BlaBlaCar or RideFinder. I've tried out BlaBlaCar twice. Once our driver ditched us and we ended up having to book a last minute flight from London to Paris (you can watch the vlog on that here), and another was when we needed to travel from Amsterdam to Ghent and it went really well! BlaBlaCar is a really great option because we only paid around 5 euros/person (you can watch the vlog on that here)
TIP: When mapping each city you'll be visiting, it's really best to map it out in such a way you'll be going to the next city closest to you so you'll avoid traveling back and forth, it's also cheaper when you're traveling closer to you than further away.

For example, if you plan to visit London (UK), Paris (France), and Bern (Switzerland) it would make most sense to go from London to Paris ($71 USD via Eurostar) and then take a train from Paris to Bern ($32 USD); while a flight from London to Bern costs around $271 USD. Of course the price ranges will always vary during time of the year, so double check just in case -- but generally speaking, the closer you are to the next destination, the cheaper it is to travel, unless you score a seat sale or find budget flights!
Accommodations
The second or third biggest chunk of your budget will most likely go to your accommodations, depending on your travel style, of course! If you like luxury travel, this might even be more expensive than your flights but there are cheaper ways too if you're on a budget. There are four common types of accommodations you can look into when planning for your trip:
Hotels
Hostels
Airbnb's/bed & breakfasts
Couchsurfing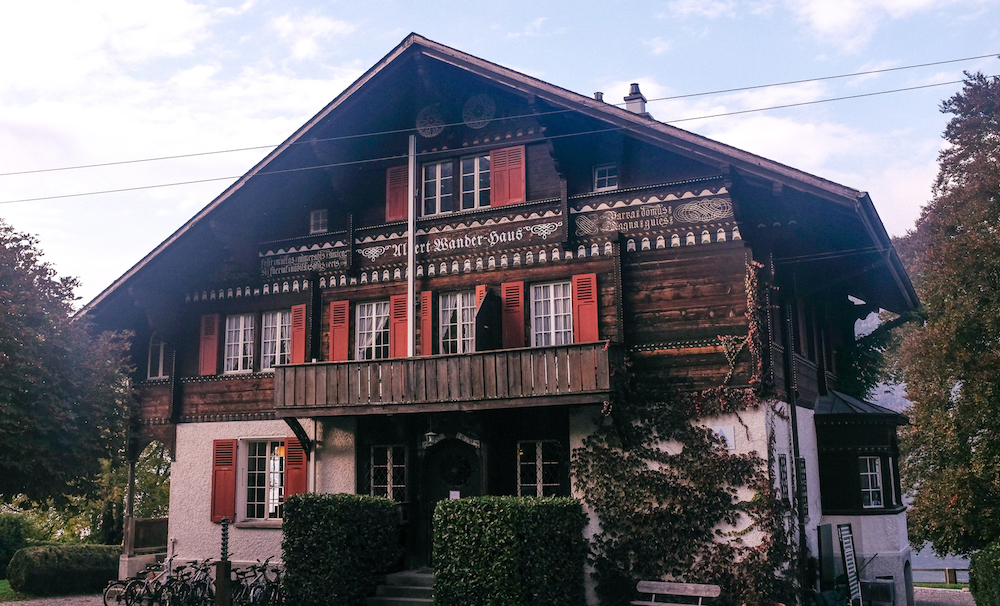 yes, this is an actual hostel. the previous summer home of the man who invented ovomaltine.
1. Hotels - Usually the most luxurious of accommodations when traveling. I personally do not see the need to stay in hotels due to the fact that I will only be spending my time showering and sleeping in it. I have to admit though, sometimes the luxury of hotels adds to the experience of traveling, depending on what you're after or your taste for travel -- but when you're a budget, you're better off skipping the hotels and checking out other accommodations instead. I like using Agoda to check out possible hotel options because they have really great deals.
2. Hostels - The favorite of backpackers because you can simply rent a bed in a same sex/mixed dorm room for as cheap as 19 euros a night. If you're a solo traveler and want to meet like-minded people, hostels are great for this situation. During my first solo travel to Europe, I met a group of American girls from my hostel and we traveled together on a day trip to visit Dachau in Munich. However, if you're a couple or a family, hostels also offer private rooms or rooms for families, which is a great alternative to hotels when you're on a budget.
For both hotels & hostels Agoda has great deals and has the cheapest I've seen on the web. For example, a quick search of accommodations in Paris on Agoda will give you cheap deals on hostels for as low as Php 1,000 ($20 USD)/night!
3. Airbnb - My current favorite out of the main types of accommodations mostly because they're affordable, and lets you experience living like a local for a few days. If you value your privacy and quiet time, you can get an entire apartment/flat/house for yourself or a private room at really affordable prices. If you're a group of friends, you can book an entire place and split the costs between all of you and it will still be cheaper than a hotel. (If you're looking to book an Airbnb, you can use my link to get $22 USD (Php1,100) off your first booking!)
4. Couchsurfing - The only free option for accommodations when traveling. Couchsurfing is a community of travelers who have extra space to spare and would love to host you and maybe even be a local tour guide for you if they have the time. You basically check out the Couchsurfing website, find someone offering up an extra space or room at their place and send in your information to be reviewed and approved. The catch? Nothing. Well, not completely nothing, you'll probably have to pay it forward by offering up your own space on the website too. It's a give and take situation. If you're going to stay with locals for free, you should also be willing to host future travelers in your home city too. It would be nice if you could also treat your host to a lovely dinner or give them a small token of something to show your appreciation for letting you stay with them. Is it safe? I've heard many successful stories of Couchsurfing stays, but like everywhere, double-check information for safety and make sure you're staying with someone with a positive reputation in the community.
Daily living costs
So how much pocket money should you be allotting? It depends on each city, as some cities are way more expensive than others around Europe. Your budget daily pocket money in Paris will definitely not be the same for Switzerland where it's generally expensive everywhere. Remember when I said Google is your best friend? Once again, this is where wonderful amazing Google comes into play -- You can utilize Google by searching: "daily costs for visiting *insert city name here*" and you'll end up with a plethora of existing blogs that have written estimates of how much you should budget for each day in different cities. Make use of this free information on the internet.
When budgeting for your pocket money, consider budgeting enough to leave you room for extra expenses. For example, if you think $40/day is enough, make it $50/day instead; this way you'll have a few extra dollars in case you need it for anything. Your daily expenses will not always be the same. If you spend less than your budget for the day, great! You can carry the remaining budget for the next day and treat yourself to a nice meal at a cheap restaurant!
Now that we've established the WHERE, WHEN & HOW of your trip, here's a quick example of what a 10 day trip to Paris will look like if I were to plan it for myself and my travel style/estimated budget:
WHERE: Paris
WHEN: 10 days (Sept 2017)
HOW:
Visa fee: Php 3,400 (French embassy)
Flight: Qatar Airways - Php 41,000
Accommodations: Php 1,200/night via hostelworld = Php 12,000
Daily living costs: Php 2,000/day = Php 20,000
Emergency funds: Php 10,000
Total budget = Php 86,400
Let's go point by point:
1. Visa fees vary depending on the exchange rate and the country you'll be applying to. Generally you'll be paying around 3,000-4,000 pesos for a visa at the French embassy on any given time of the year.
2. Flight - Currently, Qatar Airways offers the cheapest option of flying to Paris from Clark Airbase. Assuming you're from Metro Manila, consider your transport expenses from Metro Manila to Clark as well. If you're coming from a different part of the Philippines, consider the expenses for the flight going to the nearest airport to you that has airlines flying to Europe.
3. Accommodations - a quick google search shows me that hostelworld has cheap hostels for Paris for as low as Php 1,200 in September.
4. Daily living costs - My daily living costs for Paris is really Php 1,500 a day, but I like to make sure I have more money than what I really need because you never know when you might need it.
5. Emergency funds - This is important in case something happens to you while you're traveling. Sure, you may opt for insurance but insurance works on reimbursement. When you get into an emergency, you'll always have to shell out expenses first before the insurance can pay you back. It's good to have extra funds that you have access to in case something happens!
Now that you have a general idea of your budget for Paris for 10 days, you can more or less start making adjustments if you think this might be too expensive for you. You can try a different season where it might be cheaper, wait for a promo fare to appear, or even consider opting for Couchsurfing as accommodations instead of paying Php 1,200/night at a hostel. There's always room for adjustments somewhere to make it work for you and your budget, sometimes even traveling with a buddy or a group of friends can make it cheaper due to shared expenses on accommodations and food. Play around with the possibilities until you feel like your plans and your budget is workable for you.
And so, before I end this blog post I want to leave you with a quote that I know rings true to myself and many people out there who have been bitten by the travel bug...
Good luck, dear reader.
And if you have any comments, suggestions or questions for certain things I might have missed, dont hesitate to leave them below! Let's start a discussion and help each other out in seeing the world! :-)